I'm sure you've all heard it by now, but I guess I ought to say it – Stuff to Scrap is closing her doors in just a few days. Monday will be the last day. It's super sad for me. That was my first digital scrapbooking home. My dear sister in law, Christie (you may know her better as Scrappin' Serenity) introduced me when she was competing in the Designer Darling competition probably 4 years ago. I was hooked! I joined the site in December 2009 and made my first layout that January with a kit that I think was titled Once Upon a Time by Scrappin' Serenity.
I jumped on board with the February blog train (French Tulips) that year and was hooked! It wasn't great. In fact it was a pretty horrible little mini kit. The next one, Spring Picnic was a tiny bit better, but still pretty bad. Lol. Sometimes I look back at those early days and just laugh at how far I've come through learning and the mentoring of friends. I've been so blessed to know some wonderful designers over the years who have all helped to shape my designs.
I really jumped on board with Stuff to Scrap in February 2010 when I became the Social Admin, a position that I held for over 3 years. In July 2010 there was a designer call. On July 5th I made the huge step and entered. Just 3 days later I had a kit, Retro Bowl, and turned it in. Then 5 nerve racking days later I got the email – I had been offered a spot! After a few QC fixes and much nail biting, I uploaded Retro Bowl July 27th. And that's where this crazy ride began. And now it's sadly coming to an end. All things must, I guess (except my faith, but that's another blog in itself).
There is good news, though. I'm having a huge sale! Make sure to check out my store before it closes and pick up your favorites at a deep discount. And remember, please download and check your files immediately. They will not be available after Monday night at Midnight (est).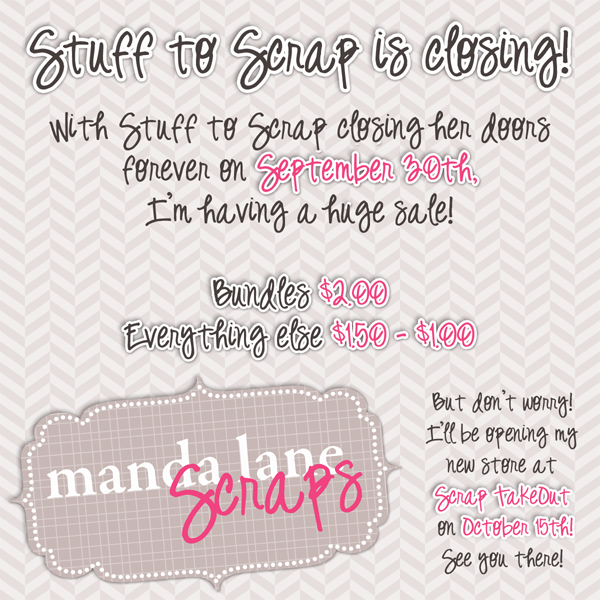 And, even more good news! Even though I'll be taking a few weeks off to focus on some things here at home (namely, my best friend's wedding!), I'll be opening a new store on October 15th at Scrap TakeOut! I'm really excited. There's a fantastic group of designers there and I think you're going to love it, too! And I'm really excited that my sister in law Christie of Scrappin' Serenity will be opening there on October 1st! Make sure to check her out, too! She's awesome! More details on the opening later. 🙂

And just so you never miss any information on the move and everything, why not check me out on Facebook? I'd love to see you over there!
Happy scrapping and God bless, friends! See you soon in my new store!